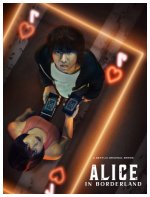 Synopsis: "Obsessed gamer Arisu suddenly finds himself in a strange, emptied-out version of Tokyo in which he and his friends must compete in dangerous games in order to survive."
Edit summary: The first season is left mostly intact, just removing some bad cgi and a lot of unnecessary backstory flashbacks that are supposed to give characters depth or meaning but just end up feeling like a waste of time.

The second season is a much deeper cut, fixing a bunch of poor dialogue and the super heavy-handed plot-hinting, and removing numerous slow sections to match the pace of the first season. It feels like they started trying too hard to be deep and it just doesn't come across as genuine without a heavy edit to strip and trim it. Also significantly changed the ending to remove the fanservice.