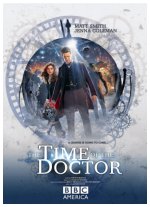 Synopsis: "An eccentric yet compassionate extraterrestrial Time Lord zips through time and space to defend the earth, and solve problems across the universe - traveling via the TARDIS (Time and Relative Dimensions in Space), which is his old and occasionally unreliable spaceship that resembles a blue police phone box"
Edit summary: This focuses on the Matt Smith version of Doctor Who, turning several seasons of the show into a self-contained mini-series that covers his entire life. Various trims for continuity and quality, as well as a bit of rearranging episodes to make it a cohesive narrative.

Please note, the episodes listed for this edit are named as well, since the episode numbers used vary from source to source depending on if the special episodes are counted separately or not. Two episodes (Cold War, The Rings of Akhaten) are basically untouched besides removing the "next episode" previews, but projects are provided anyway since they're not in the original season order.