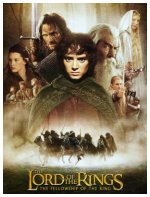 Lord of the Rings
(2001)

Synopsis: "A meek Hobbit from the Shire and eight companions set out on a journey to destroy the powerful One Ring and save Middle-earth from the Dark Lord Sauron."
Edit summary: This turns the LOTR series into a 5 episode mini-series, using parts of the Hobbit series as backstory. It's heavily cut, removing Gollum, the mad kings, and some other side plots, focusing on the parallel journeys of the party trying to defeat Sauron.

It maintains the epic pace of the adventure, while trimming enough content that the slower than normal speed of the narrative doesn't seem to drag, especially when repackaged into more digestible hour segments at natural stopping points in story.