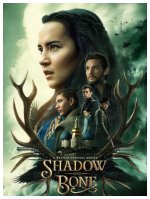 Shadow and Bone
(2021)

Synopsis: "Dark forces conspire against orphan mapmaker Alina Starkov when she unleashes an extraordinary power that could change the fate of her war-torn world."
Edit summary: Cut the flashbacks and the ship/storm sideplot that isn't really necessary for the first season and interrupts the pacing of the main plot. Other small cuts to help the pacing and also hide some botched special effects as much as possible.

Season 2: toned down the superhero abilities a little bit to match the vibe of the first season, cut the Ravka crew scenes since the story was pedestrian and unrelated to the core plot, and recut some of the Alina plot to fix the writing.