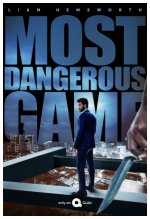 Most Dangerous Game
(2020)

Synopsis: "Desperate to take care of his pregnant wife before a terminal illness can take his life, a man accepts an offer to participate in a deadly game where he is the prey."
Edit summary: Cut a few minor scenes and details to make the story flow better and condense all the short episodes into a single video.

Season 2 isn't as good as the first season - the actors are decent but there are a few major narrative issues that can't be edited out, so for now I'm not including a subpar cut of it. But if there's a season 3 I may use some of the season 2 footage in a supercut type format to give the next season more depth. I think the next edit needs to have multiple runners to feel like a progression from the first season.