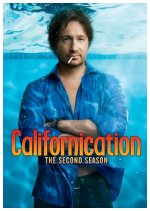 Californication
(2007)

Synopsis:
"Bachelor Hank Moody's (David Duchovny) got it made: he's a sexy best-selling author who's irresistible to the ladies. But as a part-time dad juggling his wild L.A. lifestyle with grown-up responsibilities, this say-anything writer's at a loss for words. This smart Showtime comedy also stars Natascha McElhone (as Hank's ex-girlfriend), Madeleine Martin (as Becca, his 13-year-old daughter), Madeline Zima and Evan Handler."
Edit summary:
Cut several garbage seasons, stitched together a few episodes to make the removals seamless, and edited a season finale to be the series finale.
The 3rd revision cleans up a lot of the rough edges of the original old edit - especially the Season 2/3/4 transitional episode. Also tones down the overly loud music during certain transitions.
| Name | Orig Len | New Len | Download/Note | Revision |
| --- | --- | --- | --- | --- |
| S01E01 | | | | |
| S01E02 | | | | |
| S01E03 | | | | |
| S01E04 | | | | |
| S01E05 | | | | |
| S01E06 | | | | |
| S01E07 | | | | |
| S01E08 | | | | |
| S01E09 | | | | |
| S01E10 | | | | |
| S01E11 | | | | |
| S01E12 | | | | |
| S02E01 | | | | |
| S02E02 | | | | |
| S02E03 | | | | |
| S02E04 | | | | |
| S02E05 | | | | |
| S02E06 | | | | |
| S02E07 | | | | |
| S02E08 | | | | |
| S02E09 | | | | |
| S02E10 | | | | |
| S02E11 | | | | |
| S02E12 | 29:22 | 1:06:05 | Project | 3 |
| S03E01 | | | | |
| S03E02 | | | | |
| S03E03 | | | | |
| S03E04 | | | | |
| S03E05 | | | | |
| S03E06 | | | | |
| S03E07 | | | | |
| S03E08 | | | | |
| S03E09 | | | | |
| S03E10 | | | | |
| S03E11 | | | | |
| S03E12 | 28:46 | | Merged into S02E12 | |
| S04E01 | 29:04 | | Merged into S02E12 | |
| S04E02 | | | | |
| S04E03 | | | | |
| S04E04 | | | | |
| S04E05 | | | | |
| S04E06 | | | | |
| S04E07 | | | | |
| S04E08 | | | | |
| S04E09 | | | | |
| S04E10 | | | | |
| S04E11 | | | | |
| S04E12 | | | | |
| S05E01 | 29:08 | 27:55 | Project | 3 |
| S05E02 | | | | |
| S05E03 | | | | |
| S05E04 | | | | |
| S05E05 | | | | |
| S05E06 | | | | |
| S05E07 | | | | |
| S05E08 | | | | |
| S05E09 | | | | |
| S05E10 | | | | |
| S05E11 | | | | |
| S05E12 | | | | |
| S06E01 | 28:59 | | Merged into S05E01 | |
| S06E02 | 27:48 | 26:31 | Project | 3 |
| S06E03 | | | | |
| S06E04 | 28:38 | 41:19 | Project | 3 |
| S06E05 | 28:11 | | Merged into S06E04 | |
| S06E06 | | | | |
| S06E07 | | | | |
| S06E08 | 29:00 | 45:58 | Project | 3 |
| S06E09 | 29:02 | | Merged into S06E08 | |
| S06E10 | | | | |
| S06E11 | 28:47 | 21:25 | Project | 3 |
| S06E12 | 28:27 | | Merged into S06E11 | |
| S07E01 | | | | |
| S07E02 | | | | |
| S07E03 | | | | |
| S07E04 | | | | |
| S07E05 | | | | |
| S07E06 | | | | |
| S07E07 | | | | |
| S07E08 | | | | |
| S07E09 | | | | |
| S07E10 | | | | |
| S07E11 | | | | |
| S07E12 | | | | |