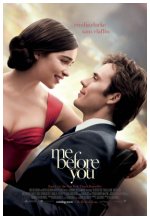 Synopsis: "Young and quirky Louisa "Lou" Clark (Emilia Clarke) moves from one job to the next to help her family make ends meet. Her cheerful attitude is put to the test when she becomes a caregiver for Will Traynor (Sam Claflin), a wealthy young banker left paralyzed from an accident two years earlier.

Will's cynical outlook starts to change when Louisa shows him that life is worth living. As their bond deepens, their lives and hearts change in ways neither one could have imagined."
This is part of the Non-Edits list: recommended movies and tv shows that are excellent without being edited.